Hello! I'm Pete Bejmuk, graphic designer and all-around creative guy. Pete's Place is the one of my many online homes.
I was born in Fort Collins, Colorado in the late spring of 1980. Soon after my birth, my family relocated to Denver. In late eighties, my family took off for a 7-year trip around the world that allowed me to experience life in different parts of the world. During these seven years, I lived in Australia, Ireland, Poland, and twice in England. I've traveled to many countries in between, including most of Europe, Thailand, Japan and Ukraine. While I was able to see many wonders and various art forms of the world, I was far too young to enjoy most of the culture that I experienced. The majority of my memories through Italy, for example, were not of Rome, or the Vatican, nor of the Sistine Chapel, but of getting a high score on my trusty Game Boy. *sigh*.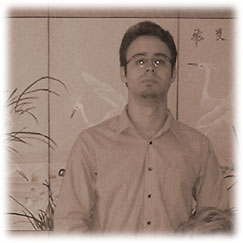 After seven years travelling around the world, my mother and I returned to the United States. I quickly resumed my american childhood (after a seven year hiatus), graduated from a Denver high school, and set off to college. I initially focused on an education in Journalism, but after a few years I realized that I loved the creative aspect of Journalism more than anything else. I eventually switched majors (and colleges) pursued a degree in Graphic design & Illustration. That said, I still had strong ties to the journalism field, and was a devout member of the student press in my new college.


Today, I still live in Denver. When I returned to the US I vowed never to leave again, but today I'm itching to begin traveling once again. I've been on numerous vacations to many exotic locations in and around the US, and have formed friendships with many people all over the globe. I'm eager to visit my friends around the world someday, but until that day comes, I will have to be content with living in the shadow of the Rocky Mountains.